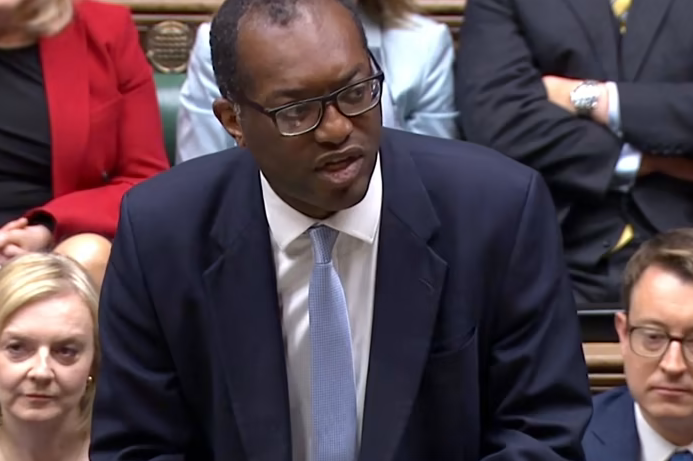 The British Pound's Plunge
For the first time since 1985, the British pound has fallen below $1.11, a drop of 2% on top of previous this week's losses. As a result of investors selling off UK assets, borrowing rates on five-year government bonds rose the highest on a single day since records began being kept.
UK's Budget
The Chancellor of the Exchequer, Kwasi Kwarteng, used his speech to announce a number of tax cuts and regulatory changes that would cost the government a total of 161 billion pounds over the next five years. This fueled fears about inflation, which was already hovering around its highest level in the last 40 years, as well as a growing weight of government debt.
The new government of the United Kingdom, led by Liz Truss, has enacted the broadest and most sweeping tax cuts since 1972. They have reduced taxes paid by wealthy households and businesses in an effort to stimulate economic expansion. This move has caused a significant drop in the value of the currency and bonds on the market.
Additional eye-catching initiatives include a reduction in stamp duty, which is a tax that is levied on property acquisitions. As a result of this change, 200,000 purchasers will no longer be subject to the tax. It was decided not to implement a payroll tax hike of 1.25 percent as anticipated for this year. The previously scheduled rise in corporation tax from 19% to 25% the next year was scrapped, and investment allowances were bumped up. This was done in order to provide assistance to businesses.
In addition to that, assistance was provided to homes and companies struggling with escalating energy bills. The emergency energy plan, which will allow for the freezing of family prices for a period of two years and will cost £60 billion over the next six months, was announced by the Treasury Department.
Truss and her supporters argue that the initiative will not contribute to an increase in inflation, and that if taxes and bureaucracy are reduced, companies will be able to grow and hire more people, which would result in an increase in tax income.
What Opinions Do the Experts Have?
Even before Kwarteng made his appearance in the House of Commons on Friday, critics of the proposals included economists as well as former officials of the Bank of England. During the global financial crisis that occurred more than ten years ago, a policymaker named Danny Blanchflower recommended that investors short the pound.
Other detractors include the Resolution Foundation, which argues that the proposal would increase inequality by providing additional advantages to the wealthiest members of society while increasing the financial burden on those with lesser incomes.
Sentiment
As a result of the decline in gilt markets, investors are now wagering that the central bank will raise its benchmark lending rate by one full percentage point to 3.25% in November. If this occurs, it would be the most significant rise in lending rates since 1989. It is an indication that traders feel that the additional borrowing will accomplish nothing for growth but will push up prices even more swiftly.