Why Compare Broker?
Compare Broker is the fastest way to compare 100+ of the best regulated online trading brokers, so that you can find a reputable and affordable broker faster.
While our site is free to use, some links to brokers use affiliate links which means that - at zero cost to you - we may earn a commission if you sign up for a broker from our site.
Platform
---
---
Why Compare Zero Spread Brokers?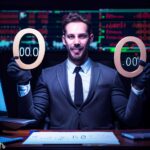 Comparing zero spread brokers is essential for traders seeking transparency and cost-efficiency in their trading endeavors. Zero spread brokers offer the unique advantage of providing trading without the traditional bid-ask spread, resulting in more accurate pricing for traders. By comparing these brokers, traders can identify platforms that align with their trading strategies and preferences, ensuring minimal trading costs and the potential for improved profitability. Additionally, comparing zero spread brokers allows traders to evaluate other aspects such as available trading instruments, regulatory compliance, leverage options, and platform features. This comprehensive analysis empowers traders to make informed decisions, optimizing their trading experience and potential returns. For those who value precise and predictable pricing, comparing zero spread brokers is a strategic step towards achieving their financial goals in the dynamic world of online trading.
What Are Zero Spread Accounts
Zero Spread accounts are trading accounts provided by brokers in which spreads start from 0 pips for some of the FX majors. This means that in some cases there is no differential between the bid and ask price. However, most of these accounts have a commission per lot meaning that in reality the spread is never 0. Zero spread accounts are also useful for measuring non-trading losses, such as slippage, and are appropriate for particular forex methods, such as high-frequency scalping and day trading.
When Forex brokers first began selling their services, their key marketing techniques were low spreads and low commission rates. However, with the introduction of Electronic Communication Network (ECN) brokers and Straight Through Processing (STP) brokers fighting for the best pricing, zero spread accounts became the newest trendy marketing tactic utilised by forex brokers to tempt potential traders.
Zero spread Pros and Cons
With zero spread accounts you have low spread and low commission. Basically, traders can get low spread and commission which makes their day trading and scalping more profitable
Pros
Zero spread accounts have access to live market spreads with small additional markup
Zero spread accounts have the ability to change the trade bias easily. Basically, you don't have to widen your spreads with these accounts and if your bid is placed on the wrong side, you can easily change it without incurring any damages to the spread in your account.
Pricing for Zero Spread accounts is provided by several liquidity sources. If you begin a transaction, the order price will in most cases be guaranteed.
Cons
Zero Spread accounts have gained significant popularity in recent years, owing to their characteristics that are particularly suitable to newcomers. Brokers are attracting an increasing number of traders who want to learn and experience Forex trading without having to bear the whole transaction cost.
A broker who offers Zero Spread accounts may compel you to use more leverage.
Some brokers may refuse to employ negative balance protection for personal reasons. Always be wary of these brokers and try to find a reliable one as much as possible.
Comparing Zero Spread Accounts
When comparing zero spread account brokers, one of the first things to look at is how much commission they charge. While professing to be zero spread brokers, some brokers impose a minimal commission or fee as well as a little markup on the spreads.
There are other brokers who provide no-commission spreads. They are often dealing desk brokers who do not send their customers' positions to the open market (liquidity providers).
Conclusion
To conclude, zero spread forex trading allows inexperienced traders to experiment with currency trading without incurring hefty transaction charges.
However, Milton Friedman's economic premise of "no such thing as a free lunch" also applies to the Forex market, particularly Zero Spread Accounts. Traders must thus investigate commissions, fees, and broker practises that may offer them with the potential to profit from their clients.
How to open an account with zero spread broker?
---
Opening an account with a zero spread broker is a straightforward process that enables traders to benefit from precise and cost-efficient trading. Follow these steps to open an account with a zero spread broker:
Select a Reputable Broker: Begin by researching and choosing a well-regarded zero spread broker known for its transparency and reliability in offering tight spreads.
Visit the Broker's Website: Navigate to the broker's official website and locate the "Open Account" or "Sign Up" option.
Account Registration: Click on the registration link and provide your personal details, including name, email address, and contact information.
Choose the Account Type: During registration, select the account type that offers zero spreads or tight spreads. This is typically highlighted as a feature of the account.
Complete Verification: Depending on the broker's requirements, you may need to complete an identity verification process by submitting identification documents like a passport or driver's license.
Agree to Terms and Conditions: Review and agree to the broker's terms and conditions, ensuring you understand the account features, trading terms, and any associated fees.
Verify Your Email: You might receive a verification email from the broker. Click on the provided link to confirm your email address.
Log In to the Trading Platform: Use the provided login credentials to access the broker's trading platform. Many zero spread brokers offer popular platforms like MetaTrader 4 or MetaTrader 5.
Deposit Funds: Fund your trading account using the available payment methods. Some brokers might require a minimum deposit amount.