Why Compare Broker?
Compare Broker is the fastest way to compare 100+ of the best regulated online trading brokers, so that you can find a reputable and affordable broker faster.
While our site is free to use, some links to brokers use affiliate links which means that - at zero cost to you - we may earn a commission if you sign up for a broker from our site.
Platform
---
Compare brokers for trading gold
When considering trading gold, it's crucial to compare brokers to make informed decisions that align with your investment goals. Comparing brokers on trading gold involves evaluating factors like trading fees, account types, available trading platforms, leverage options, and customer support. By conducting thorough research, you can identify brokers that offer competitive spreads and transparent fee structures, ensuring you maximize your potential profits. Additionally, assess whether the broker provides educational resources, market analysis tools, and a user-friendly interface, all of which can contribute to a seamless trading experience. With various brokers offering different features, taking the time to compare them can empower you to choose a broker that suits your trading style and preferences, ultimately enhancing your gold trading journey.
---
FAQs​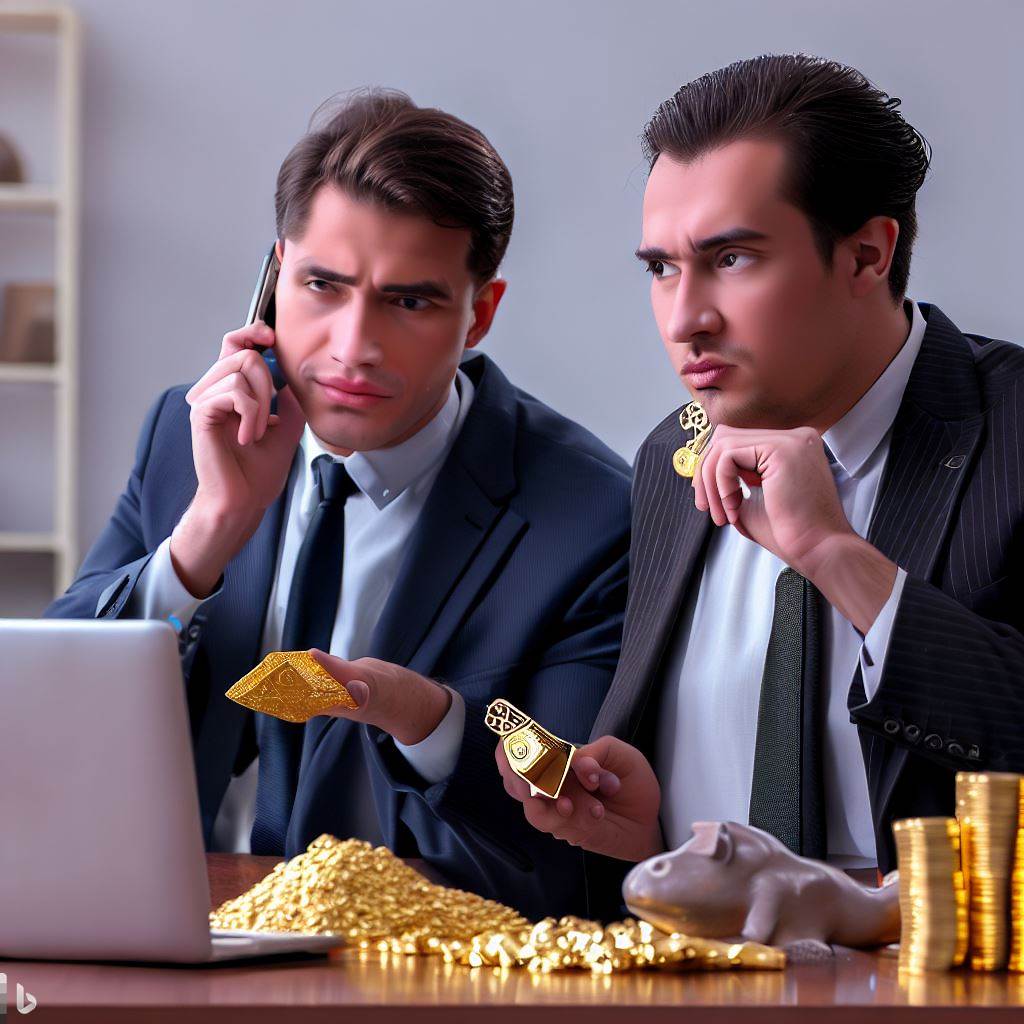 How do you trade gold?
To trade gold, you can consider various methods such as trading physical gold items like coins or bars, engaging in futures or options contracts on gold exchanges, investing in gold ETFs, or trading gold CFDs through online platforms. Start by researching and understanding the factors that influence gold prices, such as economic indicators, geopolitical events, and currency fluctuations. Develop a trading strategy that aligns with your risk tolerance and investment goals, and consider using tools like technical analysis to identify potential entry and exit points. Whether you're a beginner or an experienced trader, it's important to practice disciplined risk management, set stop-loss orders to limit potential losses, and stay updated on market trends and news that could impact gold prices.
Trading gold can be profitable, but it also carries significant risks. Gold prices can be influenced by a wide range of factors, including economic data, geopolitical events, interest rates, currency fluctuations, and more. These factors can lead to substantial price fluctuations, creating opportunities for traders to profit from price movements.
However, it's important to note that trading any financial instrument, including gold, comes with inherent risks. The potential for profit is balanced by the potential for losses. Factors like market volatility, leverage used in trading, timing of trades, and unforeseen events can lead to substantial losses as well.
Success in trading gold (or any other asset) requires careful research, a solid understanding of market dynamics, a well-defined trading strategy, and disciplined risk management. Traders need to be prepared to handle both winning and losing trades and to adjust their strategies as market conditions change. It's recommended that individuals interested in trading gold or any other financial instrument educate themselves thoroughly, practice with demo accounts or small capital initially, and consider seeking advice from financial professionals.
While it's theoretically possible to trade gold with as little as $10 using certain trading platforms that offer fractional ownership or micro-lots, there are important considerations to keep in mind: Broker Requirements, Leverage, Fees and Spreads, Risk Management, Market Volatility & Realistic Expectations.
The most effective way to convert gold into cash through trading involves utilizing established platforms like online gold exchanges, reputable gold dealers, or specialized brokers. These platforms allow you to sell your gold at competitive market prices, ensuring that you receive a fair value for your assets. Prior to selling, it's important to conduct thorough research to understand the current market price of gold, and to verify the reputation and credibility of the platform you choose. Accurate assessment of the gold's purity and weight, combined with transparent pricing structures, can help you make informed decisions and maximize your returns while trading gold for cash.
The value of a pip in gold trading depends on various factors, including the size of the contract, the current price of gold, and the currency in which your trading account is denominated.
In the context of trading, a "pip" typically refers to the smallest price movement in the quoted decimal place for a given currency pair or commodity. For gold, which is often traded against the U.S. dollar (XAU/USD), a pip is typically the second decimal place in the price quote.
For example, if the price of gold moves from $1,800.00 to $1,800.01, that's a one-pip movement.
However, the monetary value of a pip in gold trading can vary widely based on the size of the contract. Standard gold contracts might be 100 troy ounces, mini contracts might be 10 troy ounces, and micro contracts might be even smaller.
To calculate the value of a pip in gold trading, you need to consider the contract size and the change in price. The formula is:
Value of 1 Pip = (Pip Value per Standard Lot) / Contract Size
Pip Value per Standard Lot is typically dependent on the currency in which your trading account is denominated. For a USD-denominated account, it's usually around $10 for a standard lot.
For example, if you're trading a standard contract (100 troy ounces) of gold with a USD-denominated account, and the pip value per standard lot is $10, then the value of 1 pip would be:
Value of 1 Pip = $10 / 100 = $0.10
Keep in mind that the actual pip value can vary based on the factors mentioned earlier, so it's important to check with your broker or trading platform for the specific pip value calculation for the gold contract you're trading.