Why Compare Broker?
Compare Broker is the fastest way to compare 100+ of the best regulated online trading brokers, so that you can find a reputable and affordable broker faster.
While our site is free to use, some links to brokers use affiliate links which means that - at zero cost to you - we may earn a commission if you sign up for a broker from our site.
Platform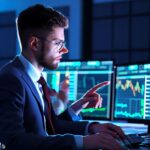 Why compare forex brokers?
Comparing brokers is a crucial step for anyone looking to trade forex, as selecting the right broker can significantly impact your trading success. When you compare brokers to trade forex, you're evaluating factors that directly influence your trading experience, profitability, and overall satisfaction. Key considerations include trading fees, spreads, leverage options, trading platforms, and customer support quality. By assessing these aspects, you can make an informed decision that aligns with your trading goals and preferences. Additionally, comparing brokers helps you identify reputable and regulated platforms, ensuring the safety of your investments and providing peace of mind. Whether you're a beginner or an experienced trader, taking the time to compare brokers empowers you to make confident choices and navigate the dynamic forex market with efficiency and effectiveness.
---
Choosing a Forex Broker: The Ultimate Guide
This forex broker selection guide will begin by explaining what trading forex is all about. Then it will go through how to identify a safe and appropriate forex broker to trade with, as well as the trading costs that may be expected, as well as the different broker corporate systems available for trading platforms, so you can choose the one that best fits you. Below you will find more information on this
The fundamentals of forex trading
What distinguishes an excellent forex broker from a mediocre one?
What are the costs charged by a forex broker?
Execution Models for Forex Brokers
The Basics of Forex Trading
Interchanging one country's currency for another is known as foreign exchange, or FX trading. You may trade currency pairings on the forex market, which are different pairs of currencies. The term "currency swap pair" refers to a currency pair that does not include the US dollar.
The major crosses such as EUR/GBP, EUR/JPY are the most commonly traded currency pairs among financial professionals. Minor currency pairs are moderately traded, whereas exotic currency pairs are the least commonly traded. Whereas some of the less frequently traded financial markets are subjected to exchange rate regulations, you may easily go long or short on one currency against another in all of the main currency pairings. Traditionally, these regulations are handled by a central bank that regulates the value and volatility of an object in relation to one or more other currencies.
The best part for individuals who are serious about learning to trade forex for their own account is that the forex market is now available for your involvement as an online forex trader, even though you only get a few dollars to stake.
The Dynamics of Forex Trading
Before you begin trading forex, be sure you have a firm grasp on the fundamentals of the market. This implies that you have access to a forex trading platform that can complete transactions and that you understand how to enter and exit currency trades. You'll also need to understand the various sorts of transactions that your forex broker allows, how to place them, and when to utilize them.
Furthermore, all a forex trader needs to earn money is to maximize their wealth, despite the fact that establishing precisely what levels are cheap and high might take a very long time to perfect. It's also a good idea to have a smart money management approach to ensure that you're betting the right amount for your trade accuracy, asset allocation, and account balance.
Fundamental Analysis in Forex Trading
Exchange rates fluctuate in reaction to conditions and events that occur or are generally projected in either of the nations that supply the commodities involved in a currency pair. As market players adjust their predictions and positions in response to new information, the supply and demand balance will most likely move to a higher or lower rate. To effectively forecast the potential effect of an exchange rate, one must consider basic facts about both currencies in a currency pair.
You'll also want to take advantage of the high economic data schedule that includes consensus predictions as well as release dates and hours. By doing some research online, you can find out what the important economic releases signify for the market and their respective relevance in terms of market-moving ability. Please remember that even the FX market may be illiquid at times, with bigger margins and quicker changes witnessed when crucial data is released.
Technical Analysis of Forex Trading
Retail forex traders' information flows may be weaker than those of bigger forex market participants. The rate of exchange, as well as how it has varied in the past, is something you can fairly be certain of understanding.
After you've gathered the exchange rate data, you'll need to devote some time to learning how to use the various technical analysis approaches. This may aid you in predicting the future course and even the amount of future currency exchange using this knowledge. When it comes to doing technical analysis, having a strong price charting system, as well as a dependable historical digital signal and the indicators you choose to utilize, is critical.
Furthermore, since you are unlikely to have access to information about the massive flows that move the market, you should learn why such flows occur, how rates of interest impact currency patterns, and what other variables significant institutional investors employ to transfer their holdings across currencies.
Forex Trading Strategy
"Plan your trading activities" is a famous trading adage handed down from seasoned traders to newcomers gaining experience in forex trading. Many of the emotionally-based mistakes that can blow out trading accounts can be avoided far more completely by using reliable technical analysis signals and other critical market explanatory variables to establish your trade input and output points objectively. If you can find the concentration and psychological control to adhere to your tried-and-true trade strategy, forex trading can become a lot more fun, and often a much more rewarding experience.
---
FAQs
Is it safe to trade with a forex broker?
When picking a forex broker, the most crucial factor to consider is the company's reputation. Some dubious forex brokers have declined to repay their customers' deposits in the past, and have refused to launch their businesses in such a manner that client money is kept separate from their own, secure and available to be restored to their owners in the event of the broker's liquidation.
In addition, most respectable forex brokers are regulated by a major financial authority, such as the Financial Reporting Council in the United Kingdom. This sort of agency's main goal is to maintain the stockbroker's ethics and safeguard the broker's customers by ensuring that the company follows the financial regulations of their country that protect consumer market participants. Look into the broker's internal practices, deal with customer complaints, and make sure the broker keeps client funds separate from its own money.
Clients of certain brokers may also be covered by compensation schemes, depending on their jurisdiction. Under the terms of the Financial Services Act in the United Kingdom, forex brokers must guarantee customer deposits of up to £86,000 against bankruptcy.
A financial regulatory body has properly regulated all of the forex brokers mentioned on this webpage. You may also check for the identity of a forex broker's regulating authority on their website. It's also important to know their registration number with their regulator so that you can check the status of their permission to work with them.
Can You Trade Your Favorite Currency Pairs?
Every forex broker will have a distinct set of currency pairs available, and some may additionally offer currency-related materials such as petroleum, natural gas, and oil for trading on their sites. If you want to use a certain set of currency pairs for your trading strategy, make sure that any broker you're considering has the same implementation in those pairs.
Almost every trader will allow you to exchange the US dollars and euros against one another, as well as the pound sterling of the United Kingdom, the Japanese yen, the Swiss franc, the Australian dollar, and the New Zealand dollar. You may get a comprehensive description of the currency pairings provided by any forex broker by studying their evaluation on our page as well as visiting the broker's website for further information.
What Are the Costs of Forex Trading?
This issue will be covered in more depth in the following section, so it'll only be briefly mentioned here. In general, while trading commodities, you must consider three sorts of costs that brokers might charge you: transaction spreads, charges, and exchanges to keep longer holdings. Wide trading spreads and/or exchanges, as well as hefty trading fees, may significantly increase your counterparty risk when trading forex, so you'll want to keep them as low as possible, particularly if you plan to trade forex regularly.
Many dealers don't really take all of these costs, and Islamic accounts often do not have swap rates attached to them. Still, while choosing between forex traders, it's a good idea to look into their transaction fees and help ensure they'll work for your trading style.
Is the broker's trading platform and charting tools adequate?
Even though all forex trading platforms let customers of a broker do things like buy and sell currencies and make orders, they have different capabilities, presentation styles, and target groups.
On one end of that scale are very straightforward trading systems designed for beginners, such as AvaTrade or Pepperstone's in-house systems. More complex forex trading platforms, like MetaQuotes' very popular MetaTrader 4 and MetaTrader 5 platforms, have features like computerized trade and trading technique reverse verification across a wide range of historical data. These features may be more appealing to more experienced traders.
Many forex systems also provide a comprehensive range of graphing features, and also the capability to overlay technical analysis on charts. If you understand how to code or can acquire someone to do it for you, some systems even enable you to construct your own unique markers. The best forex trading platforms for you will be determined by your degree of trading expertise, the sort of trading strategy you've devised, and the commodities you wish to trade.
Professional forex traders, for example, may choose a platform with advanced charting tools and relative price information, while fundamentals or news traders may select a system with a high-quality monetary news feed. Additionally, some traders who manage many forex transactions for themselves or others may need a platform that allows them to do so efficiently.
In general, opening many forex demonstration accounts with virtual money is a fantastic way to evaluate trading systems across different forex brokers. You may then try them out to discover which one suits your trading and market research approach best
What Are the Fees Charged by a Forex Broker?
Even though not all forex traders operate in the same manner or to the same extent, there are three fundamental sorts of fees that may be charged. If you are or want to be an experienced forex trader, shopping around for the best cost structure that suits your trading style may be quite beneficial. The trading spread is the most prevalent sort of fee levied by practically all forex brokers. This is the variation between a currency pair's bid or purchase price and the bid or sell price offered by a trader or market-maker who quotes two-way pricing.
Certain forex brokers may demand a fee on trades, but this is uncommon. This might be a per-trade flat fee or a proportion of the financial asset exchange fee. It's not uncommon to find a hybrid of the two commission structures. Because of these fees, some brokers may also cut the volume of trades for traders who are very active.
Traders who want to maintain a position overnight are frequently charged or paid a fee by forex traders. This is because such situations must be pushed out for an extra day in order to maintain their value. The differential among their various interbank market deposit rates determines the amount of this so-called swap or rollover charge for a given currency pair. Because swaps are usually represented in pips, you may calculate these by the foundation currency's hypothetical amount to calculate the swap charge you'll pay or get in counter currency terms. If you're long the higher-yielding currencies and short the lower-yielding currencies, you may be able to be compensated to keep the trade open for another day. Because you gain money to carry these positions owing to the favorable interest rate difference, they are called "positive carry."
Those who meet the requirements to create a Sharia-compliant Islamic account may normally trade swap-free. However, keep in mind that the broker may need to charge more in those other methods to compensate for the loss of swaps on nighttime transactions for Islamic account holders. The fees charged by most internet forex traders are listed on their websites. If you can't find them, just call the broker and ask about their prices and where they're listed so you can look at them. You can also look at them.
What Qualifies a Forex Broker?
The majority of individual or retail forex traders use an online forex broker to trade currency pairs. These brokers may use a range of business strategies that influence the trading spreads they provide, and they often provide one or more methods for retail customers to trade a variety of currency pairs digitally, including minors and significant crossings.
Trading platforms provide forex trading platforms, which are pieces of software that you may use to trade currency pairs digitally. They are usually created in-house by the stockbroker or by third-party companies, and although the majority are complimentary, some do charge a fee to utilize them. You may also trade commodities on margin through online operators, generally with high leverage ratios. For instance, if a broker's maximum leverage ratio for financial markets is 100 to 1, you may manage a transaction worth up to $100,000 with a commitment of only $1,000, or 1% of the transacted value. This reserve amount must be placed with the brokers as insurance against such losses incurred as a result of your deal.
The highest leverage ratio that a forex broker permits their customers to use for forex trading varies greatly. The regulations regulating retail trading strategies in both their and your countries might also affect leverage ratios
---