Why Compare Broker?
Compare Broker is the fastest way to compare 100+ of the best regulated online trading brokers, so that you can find a reputable and affordable broker faster.
While our site is free to use, some links to brokers use affiliate links which means that - at zero cost to you - we may earn a commission if you sign up for a broker from our site.
Platform
---
Compare Forex Micro Accounts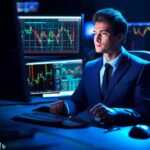 Comparing Forex micro accounts empowers traders to make informed decisions that align with their trading goals, experience level, and risk tolerance. Whether you're a beginner honing your skills or a trader looking for a cost-effective way to enter the market, careful comparison ensures that you select the best micro account option for your individual journey in Forex trading.
How to open a forex micro account
Opening a Forex micro account is a straightforward process that allows traders to start trading with smaller trade sizes and lower capital requirements. Here's a step-by-step guide on how to open a Forex micro account:
Choose a Forex Broker: Begin by researching and selecting a reputable Forex broker that offers micro accounts. Look for brokers with a solid reputation, regulatory compliance, and a user-friendly trading platform.
Visit the Broker's Website: Once you've chosen a broker, visit their official website to explore their account types and offerings.
Account Registration: Locate the "Open Account" or "Sign Up" button on the broker's website and click on it to start the account registration process.
Select Micro Account Type: During the registration process, you'll be prompted to choose the type of account you want to open. Select the micro account option.
Provide Personal Information: Fill out the required personal information, including your name, email address, phone number, and country of residence.
Verify Your Identity: Depending on the broker's requirements, you may need to verify your identity by submitting identification documents such as a passport or driver's license
Generally speaking, micro forex or micro for lots are more popular among new traders as they want to keep their risk under control. As a new forex trader, it is immensely important that you keep risk under control. Losing control of risk is a perfect way to blow out your account. So, when new traders are starting their accounts, they generally start it small lots.
Micro accounts are one of three categories of forex trading accounts, the others being mini and normal accounts. A trader can use a micro account to trade with a contract size of 1000 units of currency. This form of trading account is mainly used by new traders since it allows them to play the forex market without putting a large amount of money at risk.
What is the distinction between a micro and a mini account?
The contract size distinguishes a tiny account from a small account. A micro account has a contract size of 1000 units of currency, whereas a mini account has a contract size of 10,000 units of money. Furthermore, each account comes with its own set of bonuses and trading restrictions. With a bigger account type, for example, you may be given reduced spreads and more leverage.
Advantages and Disadvantages Of Micro Accounts
The primary benefit of a micro account is that it allows a novice trader to restrict his trading losses while gaining exposure to real-world market experiences. As a result, it is an excellent way for a rookie trader to get experience in the markets without putting big sums of money at risk.
The biggest downside of a micro account is that it restricts your earning potential because you will be trading with a tiny amount of money. Furthermore, spreads on a micro account are often larger than those on a conventional account.