Online brokers and brokerage firms are financial entities that offer a platform for people and organizations to purchase and sell financial assets via the internet. These firms play an important role in the modern economy by allowing consumers to participate in the stock market without the necessity for a physical presence. The significance of online brokerage firms stems from its capacity to provide investors with a diverse choice of investment alternatives, cheap transaction fees, and real-time market data. In this article we have addressed the questions like What is Online Broker, what he does, and how he earns?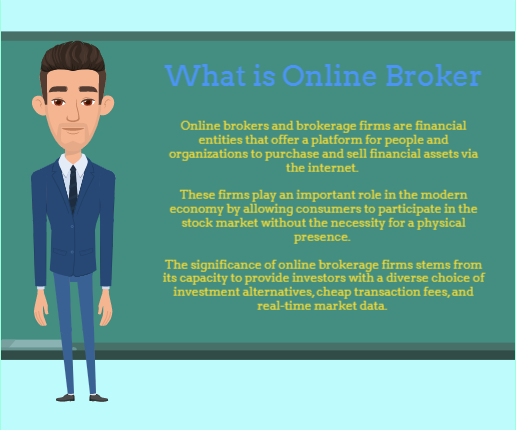 Best Online Brokers in 2023
Below we explain everything in details about online brokers. Here is the list of the top online brokers in 2023 which we have compiled for you
What is Online Broker?
An online broker serves as a mediator or intermediary, connecting buyers and sellers of financial instruments. Online brokerage companies are financial institutions that provide individuals and organizations with a platform to buy and sell financial securities over the internet. These companies play a crucial role in the modern economy by enabling people to invest their money in the stock market without the need for a physical presence.
What is the importance of Online Brokerage Company?
The importance of online brokerage companies lies in their ability to offer investors a wide range of investment options, low transaction costs, and access to real-time market data. They also provide investors with tools to analyze market trends and make informed investment decisions. Online brokerage companies have revolutionized the investment industry by democratizing access to the stock market, making it possible for anyone with an internet connection to invest in financial securities. Their presence has therefore become increasingly important in today's digital age.
How Online Brokerage Companies Make Money?
Online brokerage companies make money by charging fees and commissions for the services they provide. These fees and commissions can include account maintenance fees, transaction fees, and in some cases, fees for access to advanced trading platforms and tools. Additionally, some online brokers generate revenue by earning interest on the cash and securities held in their clients' accounts.
What are the advantages of Online Brokerage Companies?
There are several advantages to using online brokerage companies. One of the most significant advantages is the lower transaction costs compared to traditional brokers. Online brokers typically charge lower fees and commissions, making it more affordable for investors to buy and sell securities. Additionally, online brokers offer easy access to a wide range of investment options, including stocks, bonds, mutual funds, and exchange-traded funds (ETFs). They also provide investors with tools to analyze market trends and make informed investment decisions.
Another advantage of using online brokerage companies is the convenience they offer. Investors can manage their accounts and make trades from anywhere with an internet connection, without the need for physical meetings or paperwork. Many online brokers also offer mobile apps, making it even easier for investors to access their accounts on the go.
Basically, online brokerage companies make money by charging fees and commissions for their services, and they offer several advantages to investors, including lower transaction costs, easy access to investment options, and convenience. As a result, they have become an increasingly popular choice for investors of all levels of experience.
How to become an online Brokerage Company?
Becoming an online brokerage company requires significant planning, preparation, and adherence to regulatory requirements. The first step is to create a business plan that outlines the company's goals, target market, services, fees, and marketing strategy. The business plan should also include financial projections and a budget to cover initial startup costs such as legal fees, technology infrastructure, and staffing.
Once the business plan is in place, the next step is to obtain the necessary licenses and registrations to operate as a brokerage firm. In the United States, the Securities and Exchange Commission (SEC) and the Financial Industry Regulatory Authority (FINRA) oversee the regulation of broker-dealers, including online brokerage firms. These regulatory bodies require firms to register with them, pass exams, and comply with various rules and regulations.
The Financial Conduct Authority (FCA) regulates brokerage companies operating in the UK. However, simply obtaining an FCA license does not grant a brokerage company the ability to operate in Europe, as the rules and regulations have changed, particularly after Brexit. A company must now obtain a license in a European country, with many traders opting for Cyprus due to its lower cost.
Similarly, if you want to operate in Australia, Japan and other territories, as an online brokerage company, you must register with the local authority in order to onboard clients or market in those markets.
In addition to regulatory requirements, online brokerage companies must also invest in technology infrastructure to provide clients with a user-friendly trading platform, real-time market data, and access to research and analysis tools. This requires expertise in software development, cybersecurity, and data management.
There are also staffing requirements to consider. Online brokerage firms need to hire experienced professionals to handle customer support, compliance, and risk management. This includes hiring licensed securities brokers who have passed the necessary exams to qualify as registered representatives.
What Does an Online Brokerage company do?
An online broker is a financial institution that facilitates the buying and selling of financial products through an online trading platform. They provide their customers with a variety of services, including as access to multiple financial markets, investment research and analysis, trading tools, and educational materials.
What Type of instruments do online brokers offer?
Online brokers offer a wide variety of financial instruments for clients to trade. These include stocks, bonds, options, mutual funds, exchange-traded funds (ETFs), futures, and currencies. Some online brokers also offer access to more specialized instruments such as commodities, cryptocurrencies, and derivatives.
How Online Brokerage companies execute trades?
To execute trades on behalf of clients, online brokers use their trading platform to provide real-time market data and analysis. Clients can then use this information to make informed trading decisions and place orders through the platform. Online brokers typically offer two types of order executions: market orders and limit orders. A market order is an instruction to buy or sell a security at the current market price, while a limit order is an instruction to buy or sell a security at a specified price or better.
The online broker executes the trade on behalf of the client once they place an order. This involves submitting the order to the relevant exchange or market maker and waiting for the order to be filled. The online broker will then confirm the trade to the client and update their account balance accordingly.
Do regulatory bodies regulate Online Brokerage companies?
Financial authorities regulate online brokerage companies in most countries to ensure they operate in a fair and transparent manner and protect investors from fraudulent activities. However, some online brokers operate in jurisdictions without regulatory oversight or without registering with relevant regulatory bodies.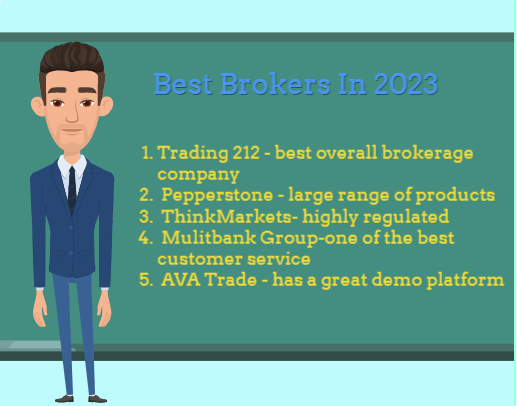 If a company is not regulated, what are the consequences?
The consequences of not being regulated can be severe for both the online brokerage company and their clients. Without regulation, there is a higher risk of fraud, mismanagement, and inadequate client protection. Clients may be vulnerable to fraudulent activities, including unauthorized trading, market manipulation, and Ponzi schemes. In addition, clients may not have access to dispute resolution mechanisms or compensation funds in the event of a dispute or bankruptcy.
What is the importance of being regulated?
Being regulated is important for an online brokerage company because it helps to establish credibility and trust with clients. Regulation provides a framework for ethical behavior and best practices, and helps to ensure that the online broker is operating in the best interests of their clients. Regulatory bodies set standards for financial stability, transparency, and compliance with anti-money laundering laws, among other things.
Regulatory oversight ensures that financial crimes are prevented and clients' funds are held in secure accounts.
In addition, regulation requires online brokerage companies to maintain a certain level of capital. This helps ensure that they have sufficient resources to meet their financial obligations to clients. Furthermore, regulation requires them to have adequate risk management and compliance policies in place. This is to protect clients from losses due to market volatility or other risks.
How Does Online Brokerage Make Money?
Fees and charges are charged by online brokerage firms for the services they offer. Account maintenance fees, transaction fees, and, in certain situations, fees for access to sophisticated trading platforms and tools are examples of fees and commissions. Furthermore, some online brokers make money by earning interest on cash and securities held in their clients' accounts.
Conclusion
To conclude, an online brokerage company that is regulated plays a crucial role in the markets. It allows users to trade from the comfort of their bed using a mobile app or web-based platform. Most brokerage companies make money through the spread difference, although some have alternative business models. Online brokerage companies provide their customers with a wide range of products at much lower prices than previously possible.
To become an online brokerage company, you need a solid business plan, adequate capital, and registration with the relevant authority.
To Find reliable online brokers visit.