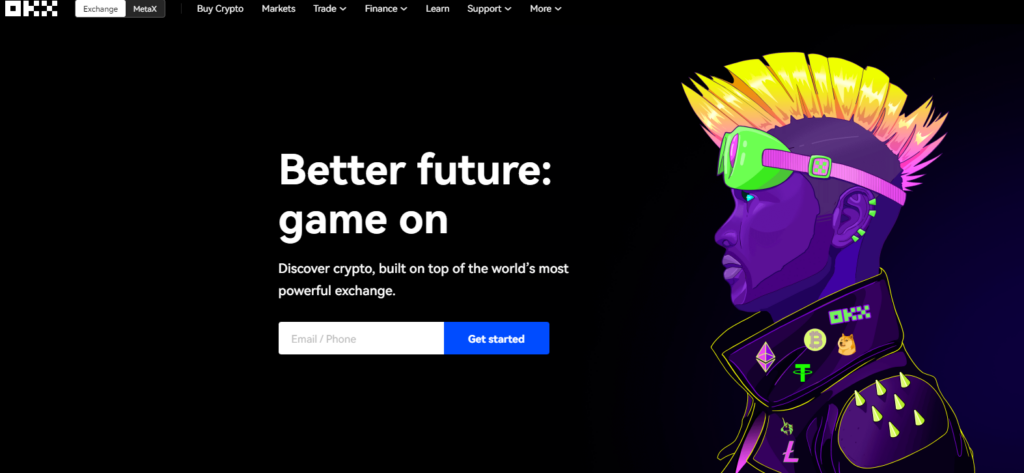 OKX, also previously known as OKExchange, is a cryptocurrency exchange based in Seychelles that provides a trading platform for a number of cryptocurrencies such as Bitcoin, Ethereum, Fantom, Solana, Dogecoin, Shibu and many other. OKX also offers Spot and derivative trading. These are two of the exchange's main features. The exchange also provides a marketplace for NFTs, staking and more. It was founded in 2017.
What Is OKX Exchange?
OK Exchange is a division of the OK Group, which also operates Okcoin, a cryptocurrency. This post will walk you through the process of buying and selling cryptocurrencies on OKX exchange.
Why OKX Changed Its Name?
Bitcoin was still in its childhood as a network when OKEx team first began its crypto journey. Ethereum, the second biggest crytpo currency was still in its early days. Other public blockchains such as Solana, Dogecoin and applications were only ideas in a white paper. However, Bitcoin changed the game. BTC provided a vision for a new future, a really open system for every person in which every person has the freedom and they can truly own their own future.
OKX has a much bigger vision and they are constructing much more than a centralized exchange. Hence, they believe that It is time for them to modernise thier brand to represent accorodingly.
The OKX team believes that Finance (DeFi) and gaming (play-to-earn) are simply the tip of the iceberg. Hence, they decided to drop the E and replace it with X.
How To Create an account On OKX?
To buy cryptocurrency such as Bitcoin, you must first open an account with OKX exchange and verify your identity.
Fill out the form and click the sign up button. Now you must verify your email address or phone number with a code sent by OKExchange. This code is only valid for 30 minutes before expiring, requiring you to repeat the procedure.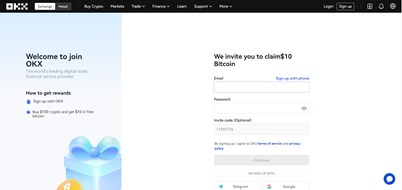 After inputting the code and validating your email address or phone number, you will be signed into your new OKX account. You will then be presented with a homepage.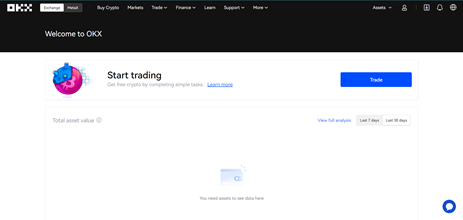 You can find further setting for account on OKX exchange page. How to buy and sell cryptocurrency on OKX Exchange?
Step 1: Log in to your OKX account
Before you may purchase or trade cryptocurrencies, you must first log into your OKX account. Go to the OKX website and select Login in the upper right corner to complete your login procedure.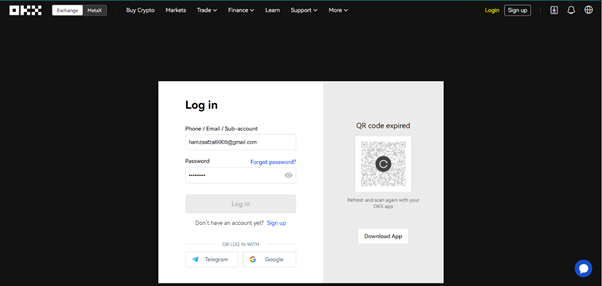 If you don't already have an account, click Sign Up and fill out the form.
Step 2: Select Buy/Sell
To begin, log in to your OKX account and then choose Buy Crypto in the upper left-hand corner of the homepage.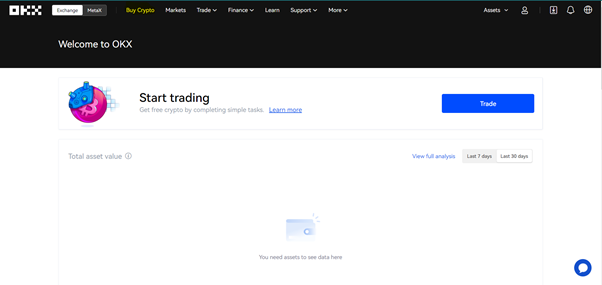 Buying or depositing crypto to fund your OKX account
OKX users have access to an easy-to-use Buy/Sell crypto gateway that allows them to purchase nine different crypto assets, including, and, using a range of local fiat currencies.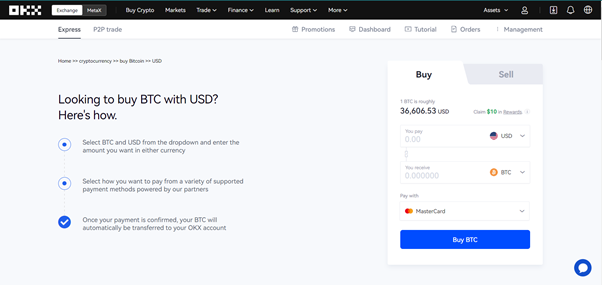 Step 3: How to Buy and Sell Cryptocurrency On OKX Exchange? – Select your Buy/Sell method
Three steps are to decide how you want to purchase or sell bitcoin. On OKX, you have three main choices:
1. Fast Trade
2. Peer-to-peer trading
3. Block Trade
The simplest way to buy crypto on OKX Exchange is to utilize the Fast Trade option.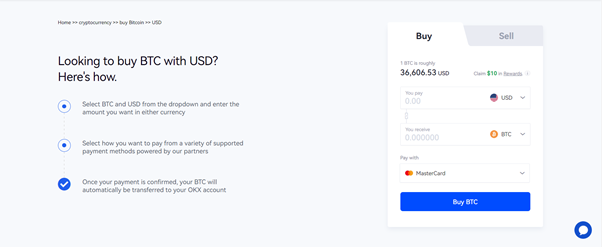 Conclusion
You can use OKX to buy/sell cryptos and the platform is fairly user friendly. If you like to find out other best crypto exchange or best crypto broker, you can do it here