Elon Musk, a billionaire entrepreneur, has proposed buying Twitter Inc. for $43 billion, slamming the company's management. Musk claims to be the only person who can unleash the "tremendous potential" of a communication medium used by over 200 million people every day.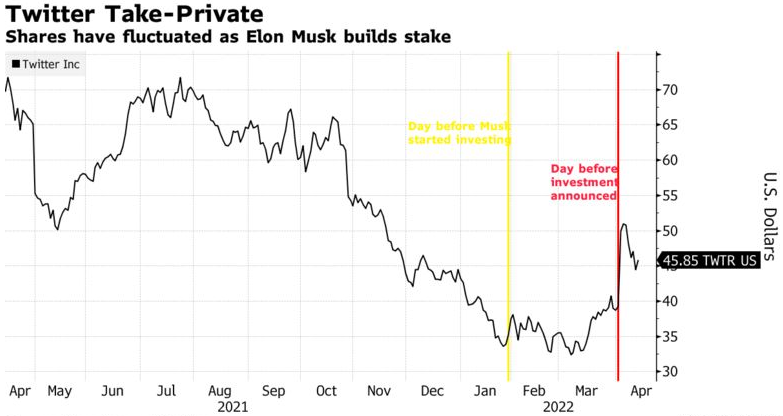 Musk said he'll pay $54.10 a share in cash. which is 37.90% more than the price on April 1, the very last business day before he came out publicly with his investment. The social networking company's stock was barely changed at $45.81 in New York on Thursday. It indicates uncertainty that one of the product's most prominent users would prevail in his acquisition effort.
Elon Musk's Bid to Acquire Twitter
The bid marks Musk's biggest high-stakes confrontation with the social media network to date. The executive is one of Twitter's most popular firebrands, often posting jokes and taunting @elonmusk's more than 80 million followers. He's been vocal about the improvements he'd want to see implemented at the social media platform, and the firm granted him a seat on the board when he announced his $3.35 billion investment.
Financial Aspects of the Bid
Musk has enlisted the help of Morgan Stanley to help him with his quest. In 2018, he chose $420 as the amount at which Tesla might be acquired. The number 420, generally known as a coded symbol for marijuana. This number also included in the offer price. In the coming days, there will be a slew of issues about finance, regulation, and balancing Musk's time, said Dan Ives, a Wedbush analyst. "However, based on this filing, Twitter's acceptance of the proposal is a now or never proposition."