Terra USD aspired to a one-to-one exchange rate with the US dollar. In a widespread selloff, Do Kwon's token reached a low of 60 cents. Like their more "conventional" predecessors, algorithmic stable coins are designed to provide order to the crypto world.
Fall of UST Currency
Rather of trading at $1 as planned, the TerraUSD currency, or UST, fell to roughly 99 cents over the weekend. It has dropped below 60 cents on Monday evening in New York, obliterating its previous low of 92 cents set in May 2021. It recovered losses on Tuesday and is now bouncing between 90 cents and $1, indicating danger.
The reason for Terra's currency being untethered is a hot subject on the internet. The mismatch occurred in the context of a strong selloff in crypto assets, including a drop in Bitcoin below $30,000. The UST founder, has already said that he would acquire up to $10 billion worth of Bitcoin as part of his backing for the currency, further tying the initiative to the digital-asset market's heart.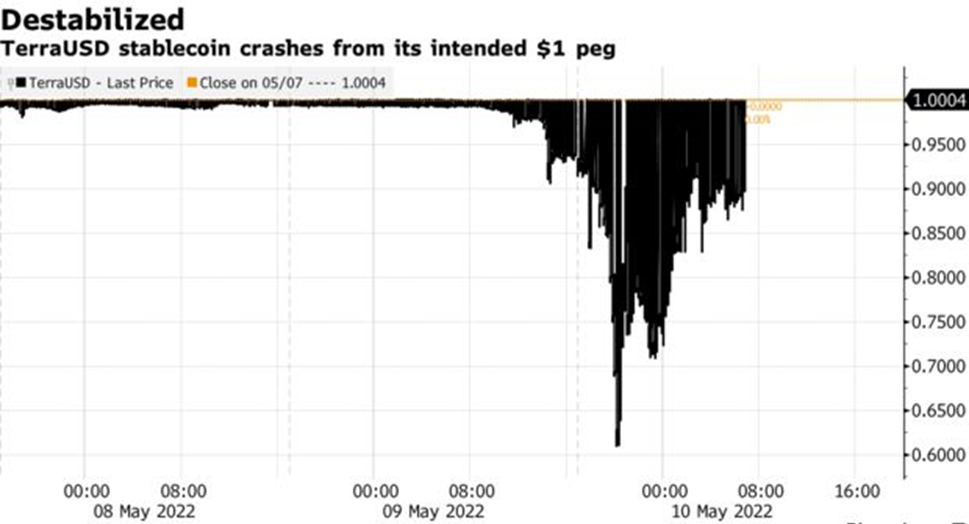 Traditional stablecoin issuers like Tether's USDT and Circle's USDC claim that their tokens are backed by "real" assets like cash or highly rated bonds. Algorithmic stablecoins, on the other hand, try to maintain their value through active treasury management. The most popular and contentious of these tokens is UST, which works in combination with a similar token, Luna.
Terra Coin Analysis
Traders are encouraged to exchange UST units for Luna, if the price of Terra's stablecoin falls below $1. If the price rises over $1, the system reverses, removing Luna tokens from circulation and replacing them with fresh UST units.
However, all of those procedures failed over the weekend, and UST lost its dollar peg, while Luna fell in value. The council of the Luna Foundation Guard (LFG), a group of crypto players, to intervene in the crypto market. Jump Crypto was unavailable for comment.