Home » Reviews » FX Central Clearing
FX Central Clearing Review
FX Central Clearing is a broker that provides forex trading services. They provide traders with access to a wide range of assets in a number of markets, including currencies, indices, and commodities. They provide cryptocurrency CFDs to traders interested in cryptocurrencies such as Bitcoin.
Pros
Segregates client funds
Established in 2010
Regulated by CySEC
Min. deposit from $100
Cons
A minimum deposit of $100 is required to establish a live account. Alternatively, FX Central Clearing provides a demo account that you may use to experiment and become acquainted with their platform.
Regulated by CySEC (License: 121/10), FX Central Clearing keeps all customer funds in a separate bank account and works with tier-1 institutions to do so. FX Central Clearing was founded in 2005 and has its headquarters in Cyprus.
Before we get into the specifics of FX Central Clearing's spreads, fees, platforms, and trading tools, you may want to open their website in a new tab by clicking the button below to get the most up-to-date information straight from them.
Full disclosure: We may receive a commission if you sign up with a broker using one of our links.
What are FX Central Clearing's spreads & fees?
Like most brokers, FX Central Clearing takes a fee from the spread, which is the difference between the buy and sell price of an instrument.
The commissions and spreads shown here are based on the FX Central Clearing website's minimum spreads.
| | | | |
| --- | --- | --- | --- |
| Forex | FX Central Clearing | City Index | XTB |
| EUR/USD(Average: 0.7 pips) | 0.5 pips | 0.7 pips | 0.1 pips |
| GBP/USD(Average: 1.1 pips) | 0.6 pips | 1.7 pips | 0.1 pips |
| USD/JPY(Average: 1.1 pips) | 0.6 pips | 0.6 pips | 0.1 pips |
| AUD/USD(Average: 0.8 pips) | 0.4 pips | 0.6 pips | 0.2 pips |
| USD/CHF(Average: 2.3 pips) | 0.6 pips | 2.3 pips | 0.2 pips |
| USD/CAD(Average: 2.9 pips) | 0.8 pips | 0.5 pips | 0.3 pips |
| NZD/USD(Average: 3.6 pips) | 0.9 pips | 2.8 pips | 0.3 pips |
| EUR/GBP(Average: 2.4 pips) | 0.6 pips | 0.5 pips | 0.1 pips |
Spreads are dynamic and are for informational purposes only.
As you can see, the minimum spread for trading EUR/USD at FX Central Clearing is 0.50 pips, which is relatively low when compared to the average EUR/USD spread of 0.70 pips. The table below compares the cost of trading one lot of EUR/USD with FX Central Clearing to other brokers.
How much does FX Central Clearing charge to trade 1 lot of EUR/USD?
If you were to buy one standard lot of EUR/USD (100k units) with FX Central Clearing at an exchange rate of 1.1719 and then sell it the next day at the same price you would likely pay $10.7. Here's a rough breakdown of the fees and how this compares against IG & XTB .
All fees/prices are for informational purposes and are subject to change.
What can you trade with FX Central Clearing?
FX Central Clearing offers over 32 different instruments to trade, including over 28 currency pairs. We've summarised all of the different types of instruments offered by FX Central Clearing below, along with the instruments offered by IG and XTB for comparison.
| | | | |
| --- | --- | --- | --- |
| FX / Currencies | FX Central Clearing | IG | XTB |
| # of forex pairs offered | 28 | 90 | 48 |
| Major forex pairs | Yes | Yes | Yes |
| Minor forex pairs | Yes | Yes | Yes |
| Exotic forex pairs | Yes | Yes | Yes |
| Cryptocurrencies* | No | Yes | Yes |
| | | | |
| --- | --- | --- | --- |
| Commodity CFDs | FX Central Clearing | IG | XTB |
| # of commodities offered | 0 | 34 | 21 |
| Metals | Yes | Yes | Yes |
| Energies | No | Yes | Yes |
| Agricultural | No | Yes | Yes |
What's the FX Central Clearing trading experience like?
1) Platforms and apps
FX Central Clearing provides the well-known MT4 forex trading platform. See our MT4 broker comparison for a list of the best MT4 brokers. They also offer their FXCC MAM platform.
They also offer mobile apps for Android and iOS, making it easier to keep an eye on and execute your trades while you are on the move.
SEE FX Central Clearing'S PLATFORMS
Still not sure?
Open a practice account & learn to trade
2) Executing Trades
FX Central Clearing allows you to conduct a 0.01 Lot trade. This may differ based on the type of account you establish. The maximum trade size available is 50 lot per trade. Because they provides ECN and STP execution, you may anticipate exceptionally narrow spreads and greater transparency into the price you pay to execute your transactions.
FX Central Clearing, as a market maker, may have lower entrance criteria than an ECN broker, which benefits from a higher volume of transactions and usually has higher capital and minimum trading requirements. Market makers generally have a lower minimum deposit, lower minimum trade requirements, and no trading commission.
As with most brokers, margin requirements do vary depending on the trader, accounts and instruments. You can see the latest margin requirements on their website.
FX Central Clearing also offers a number of useful risk management features, such as stop losses (with trailing stops), limit orders, negative balance protection and much more. You can see all of the account features offered by them here.
Finally, we've listed some of the popular funding methods that FX Central Clearing offers its traders below.
Trading Features:
Allows scalping
Allows hedging
Offers STP
Low min deposit
Offers Negative Balance Protection
Accounts offered:
Demo account
Micro account
Mini account
Standard account
ECN account
Islamic account
Funding methods:
Credit cards
Bank Transfer
Neteller
Skrill
3) Client support
FX Central Clearing supports a wide range of languages including English, Arabic, Farsi, Turkish, Spanish, Portuguese, French, German, Russian, Thai, Malay, and Indonesian.
4) What you'll need to open an account with FX Central Clearing
As FX Central Clearing is regulated by CySEC, every new customer must go through a few simple compliance checks to verify that you understand the risks of trading and are permitted to trade. When you establish an account, you will most likely be asked for the following information, so have it handy:
A scanned colour copy of your passport, driving license or national ID
A utility bill or bank statement from the past three months showing your address
You'll also need to answer a few basic compliance questions to prove your trading expertise, so allow at least 10 minutes to finish the account opening procedure.
While you may be able to browse their platform immediately, it is essential to note that you will not be able to execute any trades until you pass compliance, which might take several days depending on your circumstances.
To start the process of opening an account with FX Central Clearing you can visit their website here.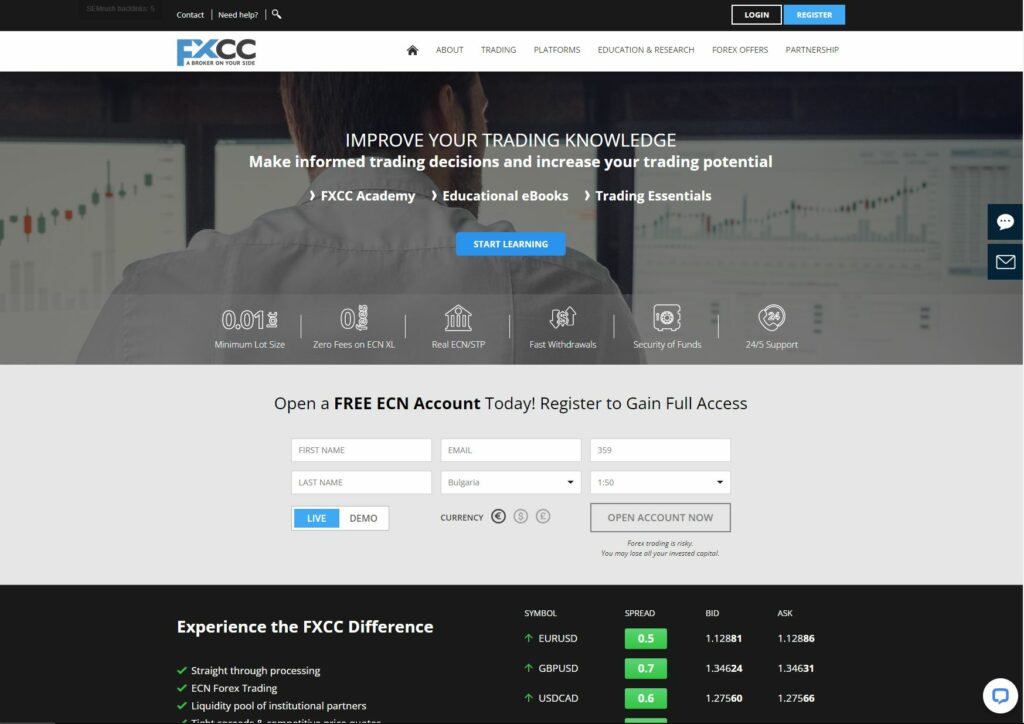 79% of retail investor accounts lose money when trading CFDs with this provider.